Water Damage Restoration Collin County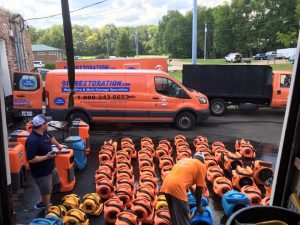 One of the most difficult things to deal with as a property owner is water damage. That's mainly thanks to the fact that water damage can occur at any time and anywhere on the property. Whether it's from a ceiling leak or a burst pipe, your property is at risk. That's why prompt action is needed with your water damage restoration in Collin County.
Water damage not only deals damage to your property's structure, but also has an impact on your belongings, appliances, furniture, and floor. At higher amounts of water damage, you can even see warping and discoloration with your floors and walls. At that level, you need more than water restoration. You need flood cleanup services.
Besides the water damage itself, you can also be at risk for a mold infestation thanks to its ability to thrive in damp and dark environments. Reacting quickly by calling the professionals at 911 Restoration can save you money as well as a headache thanks to our water damage restoration services.
We know that water damage can happen at any time. That's why we strive to deliver unmatched customer service by being available 24/7/365. We are only a phone call away and guarantee to be at your property within 45 minutes of your call.
When you are suffering from water damage in Collin County you need the ability to get back to your normal life quickly and efficiently. We offer comprehensive water restoration and mold removal services that help us maintain our guarantee of a Fresh Start.
Water Damage in Collin County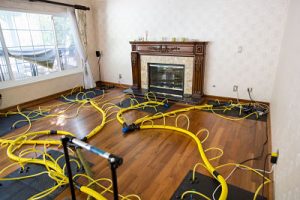 Water restoration is a straightforward yet complex process. Before we even unpack our equipment, we start with a visual inspection so we can determine the scope and scale of your water damage. Plus, some sources of water damage are hard to see with the naked eye like in the event of a dark crawlspace. That's why we take our inspection a step further by using infrared technology to see what our eyes alone cannot.
We bring decades of experience when it comes to handling water damage in Collin County. As a result, we have gone above and beyond our IICRC certification to deliver comprehensive solutions that truly help you get back to good as new.
Some services we provide include:
Free visual inspection for property owners only

Storm repairs

Water extraction

Pipe bursts

Storage services

Structural damage evaluation

Leak repair

Home restoration

And more
We don't believe in cutting corners with our water restoration since the fallout from improper remediation can actually cause greater damage than you initially suffered. Our mission is to deliver peace of mind and stress-free experience during your water damage restoration.
With us, you can count on high-quality service that takes your concerns and needs into consideration. We will walk you through the entire water restoration process including your insurance claim. Backed by our IICRC certification, we will remove all sources of water damage and address any mold issues we discover during the process. Call 911 Restoration for the critical Fresh Start.
Winter Woes Bring Frozen Pipes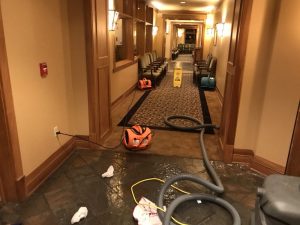 During winter, extreme cold can happen. This creates a frozen effect on your grounds and outside of your property. It also can affect your pipes. When it stays cold for too long you can suffer from frozen pipes. This causes the water within to be unable to flow freely and build up in pressure.
Once the pressure becomes too much, that frozen pipe becomes a pipe burst. When a pipe burst happens, your home is subject to flooding. In the event of flooding, you need flood cleanup services to remedy the problem. Flooding from a burst pipe brings additional problems beyond greater structural damage. Since the water within the pipes can be from any source, you run the risk of gray or black water depending on which pipe actually bursts.
Gray water is fairly safe but does carry debris, dirt, and additional materials that can damage you and your property further without proper care and attention. Black water is actually a class three hazardous material that should only be handled with the proper protective gear and is an automatic result in the event that it's a sewer pipe that bursts.
When suffering from frozen pipes or an actual pipe burst you need to respond quickly to mitigate the damage to your property. For prompt flood cleanup, call 911 Restoration to handle your emergency restoration. We'll be there soon to deliver a Fresh Start.
Serving the communities of Addison, Allen, Collin County, Copper Canyon, Denton, Frisco, McKinney, Plano, The Colony and surrounding areas.