Water Damage and Mold Removal in Addison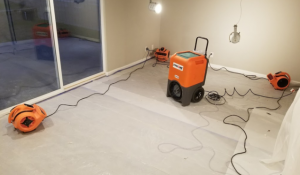 Are you dealing with a water damage emergency? Don't wait to get professional help if you are facing flooding caused by heavy rains, a sewage backup, or a pipe burst in Addison. Water can continue damaging your floors, walls, and ceilings as long as it remains in your property.
Take action now to protect our home or business by calling 911 Restoration of Collin County. Our water damage restoration crews are always on-call and they can reach properties around Addison within 45 minutes of an emergency call to:
Complete a Water Damage and Mold Inspection

Perform Emergency Water Extraction

Handle Carpet Drying and Dehumidification
You can contact us for commercial or residential water damage restoration in Addison. As a full-service property restoration company, we can also handle mold removal in Addison. Let us take care of mold remediation and mold decontamination to return your property to perfect condition.
How Do You Get Water Damage Restoration in Addison?
Beginning flood cleanup in Addison is as easy as calling 911 Restoration of East Dallas. You can count on us to offer you same-day services that can include:
Water Removal and Flood Cleanup

Repairs for Wall and Ceiling Leaks

Damage Mitigation for Frozen Pipes
We know how important it is to move quickly after a pipe burst or sewage backup. Our water damage restoration techs are armed with cutting-edge equipment and the training to handle pipe bursts, heavy rains, and sewage spills.
You can also rely on us to perform all the mold removal services you need. Let us start handling your needs with a mold inspection in Addison. If the mold inspection turns up signs of mold growth, technicians can:
Send a Sample to a 3

rd

Party Laboratory

Begin Commercial or Residential Mold Remediation

Take Care of Odors with Mold Decontamination
Let us completely restore and renovate your property with water damage restoration and mold remediation in Addison so you can get a Fresh Start.
How Does Mold Removal in Addison Work?
You may be wondering what to expect from mold remediation in Addison. The mold removal process can be complex, but the technicians at 911 Restoration of Collin County have the experience and training to:
Begin with a Mold Inspection

Isolate Mold and Begin Mold Cleanup

Filter Mold Spores Out with Air Filters

Finish the Process with Mold Decontamination
Mold remediation can be an important part of flood cleanup. Water damage from a pipe burst, frozen pipe, leaking pipe, or sewage spill can give mold a great place to grow. Beginning flood cleanup right away can limit the odds that you will need to complete mold decontamination in Addison.
You can begin the restoration process for your home or business today by calling 911 Restoration of Addison. Let us fully renovate your property and return your peace of mind after a water damage emergency.
Servicing the cities of Addison, Allen, Argyle, Bartonville, Carrollton, Collin County, Coppell, Copper Canyon, Corinth, Denton, Fairview, Farmers Branch, Flower Mound, Highland Village, Lake Dallas, Lewisville, Little Elm, McKinney, Plano, Prosper, The Colony, Frisco… and surrounding areas.