Water Damage and Mold Removal in Allen
Do you need help recovering from commercial or residential water damage in Allen? You can get professional assistance handling a pipe burst, flood, sewage backup, or frozen pipe emergency by calling 911 Restoration of Collin County right now.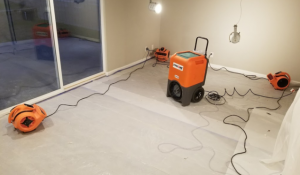 The water damage restoration specialists at 911 Restoration of Collin County stay on-call 24/7/365. You can get the following services within 45 minutes when you call us:
Emergency Roof Repairs and Boarding Up
Emergency Water Extraction and Flood Cleanup
A Thorough Water Damage and Mold Inspection
Drying and Dehumidification for Your Property
As a full-service property restoration company, our crews are IICRC certified to handle flood cleanup as well as mold removal in Allen. If you spot mold after experiencing a ceiling leak or carpet water damage we can offer you a mold inspection and expert mold remediation in Allen.
Get your property back into perfect condition after a pipe burst with the water damage restoration, mold remediation, and mold decontamination services offered by 911 Restoration of Collin County.
Why Choose Us for Water Damage Restoration in Allen?
You need to get help right away if you are dealing with flooding caused by heavy rains, a sewage backup, or a pipe burst in Allen. 911 Restoration of Collin County is a locally owned and operated company located in your community, allowing us to reach you quickly.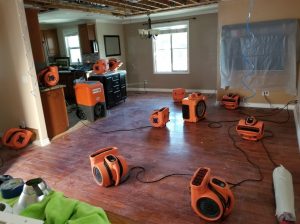 Our water damage restoration crews are all licensed, bonded, and insured to take care of flood cleanup in Allen. Crews are armed with professional-grade equipment that includes:
Techs can use their training to quickly handle basement flooding, ceiling leaks, and water remediation. We also have the resources to take care of mold growth. Let us:
Complete a Mold Inspection
Begin Commercial or Residential Mold Removal
Focus on Total Mold Decontamination
Ensure the Mold Remediation Process is Successful
Our mold specialists can even remove odors associated with mold growth with mold decontamination in Allen. Your property can be returned to the perfect condition you deserve when you contact 911 Restoration of Collin County.
How Quickly Can You Get Mold Remediation in Allen?
Handling water damage restoration and mold removal quickly can lower the overall damage your property experiences. Flood cleanup and mold remediation in Allen should both begin as quickly as possible, which is why 911 Restoration of Collin County offers around-the-clock service.
You can call us any time of the day or night if you need help handling:
Crawlspace Cleanup from a Pipe Burst
Drywall Damage from a Leaking Pipe
Major Flooding from Frozen Pipes
A Sewage Backup in Your Bathroom
Water damage restoration in Allen can return your home or business to perfect condition. In some cases, you may need mold decontamination and mold removal in Allen to ensure your property is completely restored. Let us complete a mold inspection in Allen now to determine your exact property restoration needs.
Servicing the cities of Addison, Allen, Argyle, Bartonville, Carrollton, Collin County, Coppell, Copper Canyon, Corinth, Denton, Fairview, Farmers Branch, Flower Mound, Highland Village, Lake Dallas, Lewisville, Little Elm, McKinney, Plano, Prosper, The Colony, Frisco… and surrounding areas.